Transportation's Budget 2016 helps create jobs and support economic growth
Alberta Transportation's Budget 2016 invests in Alberta's provincial highway network to ensure safe, efficient highways, and provides funding to municipalities for critical local road, water and wastewater infrastructure, as well as support to grow public transit.
As part of the overall Government of Alberta Budget 2016 plan, these investments support Albertans, the economy and job creation.
Programs and Services
Capital Plan, Road Conditions, Ring Roads, Maintenance Contracts, Road Restrictions/Bans
Grants, Traffic Safety Calendar, Traffic Safety Plan, Saferoads, Office of Traffic Safety Reports
Municipal Grants, GreenTRIP, Alberta Municipal Water/Wastewater Partnership (AMWWP)/ Water for Life, Provincial Transit Engagement
Consulting Services, Tendering and Contracting, Opportunities, Partnering, Safety Certification
Driver Guides, Driver Licensing, School Buses, Commercial Vehicles, Distracted Driving Legislation
Commercial Vehicle Safety Regulation (CVSR), Vehicle Equipment Regulation (VER), Commercial Vehicle Out-of-Service Policy, Industry Notice
Highway Design and Construction, Highway Maintenance, Bridges, Water Management, Highway Special Events Guide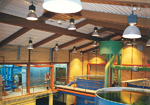 New truck staging area to be built on Highway 63 near Fort McMurray
A new truck staging area at Supertest Hill north of Fort McMurray will be constructed to support economic growth while creating jobs, reducing congestion and enhancing safety on Highway 63.
This project, expected to be completed in fall 2017, is the second safety rest area in the Regional Municipality of Wood Buffalo and will help energy and transport industries manage their loads on the highway. It will help take heavy trucks off the road during the busy daily urban commute, thereby reducing travel time for local residents working north of the city.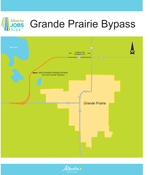 Highway 43X Grande Prairie Bypass Announced
Construction of the new $54-million Highway 43X-Grande Prairie bypass is expected to begin in 2016, as part of approved funding in Budget 2016's Capital Plan. Building this bypass, a project supported by area municipal governments, will support the local economy, with its strong ties to the oil and gas, forestry and agriculture sectors, by providing stable infrastructure and an efficient transportation corridor. This project also supports safer, more efficient travel for 27,000 area residents and Alberta motorists who use this stretch of highway daily. This project is one of nearly 600 highway and bridge projects that support the Alberta Jobs Plan. It is also part of the CANAMEX Trade Corridor.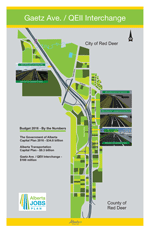 QEII – Gaetz Ave. Interchange Construction Announced
Construction of the new $100-million Queen Elizabeth II Highway interchange at Gaetz Avenue in Red Deer will begin this summer, following funding approval in Budget 2016's Capital Plan. When complete, this interchange will improve traffic flow and safety for travellers, local residents and businesses, and support the 2019 Canada Winter Games. The project is expected to create hundreds of jobs over the next three years.
Alberta supports public transit with third call for GreenTRIP projects
The Government of Alberta has announced the third call for applications to the Green Transit Incentives Program (GreenTRIP) to support public transit. Alberta municipalities and others will have access to $415 million to support transit projects such as buses, park-and-ride facilities, technology upgrades and light rail transit systems. Of this funding, $130 million will be available to communities within the Calgary region and $285 million will be available to municipalities outside of that and the Capital region.