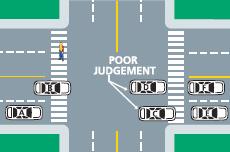 Vehicles A is in the proper location. Vehicle
B has blocked the crosswalk. Vehicles C and
D have used poor judgment and have had to
stop in the intersection. Cross traffic has been
affected. Ensure that there is enough space
to allow your vehicle to completely clear the
intersection and crosswalks before entering.
Traffic circles and
Roundabouts 
Traffic circles and roundabouts are
circular intersections designed to improve
traffic flow and safety. Traffic always
circulates in a counterclockwise direction
around a centre island. Vehicles entering
the intersection must yield to traffic
already in the circle.

There are differences between traffic
circles and roundabouts. The centre
island of a roundabout is smaller than
the centre island of a traffic circle. The
roundabout has been designed with
a tighter curve around the island to
encourage lower speeds and may have
a sloped curb to allow more room for
larger commercial vehicles. Pedestrian
crossings on roundabouts are located
away from the intersection for safety,
as well as improved lines of sight for
motorists and pedestrians.

Drivers must follow similar rules when
using roundabouts or traffic circles.
One lane traffic circle /
roundabout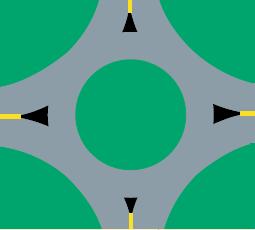 An example of a single lane circular intersection.
ENTERING CIRCULAR 
INTERSECTIONS:

Drivers entering a one lane circular
intersection must yield to drivers already in
the circle. Once in the circle, drivers must
activate the right signal when preparing
to exit.

EXITING CIRCULAR INTERSECTIONS:

Always wait to activate your right turn
signal after passing the exit that is before
your intended exit. This tells other drivers
that you intend to leave the circle at the
next exit.
When you intend to exit at the first
available exit:
• Use your right signal as you approach.
   Leave it on until you have exited the
   circle.
• As you approach, scan for pedestrians
   and cyclists at the crosswalks at the
   entrance and exits of the circle.
 
CHAPTER FOUR                                                                                              INTERSECTIONS AND TURNS  59