Transportation Infrastructure Management System (TIMS)
What is TIMS?
TIMS is a unique Web–based knowledge system designed to ensure that $70b worth of highway assets and annual capital investments of 1.5b are managed for optimum lifetime performance by measures of safety, economics, environmental sustainability and innovativeness.
Rationale for TIMS
A strategic objective of the Alberta Transportation (AT) is to harness knowledge to achieve excellence in the performance of the transportation assets under its jurisdiction. To achieve this objective and to respond to the imperatives of maintaining a knowledge- savvy transportation agency, the department launched the strategic initiative of developing TIMS.
The mission of the TIMS development program is to integrate and use intellectual assets, business transformation opportunities, and technology to create a world class knowledge system that enables AT to accomplish the following:
Delivering maximum lifetime socio-economic value for its investments in highway assets.
Developing, preserving & harnessing the department's intellectual assets: human capital, processes, practices, partner relations, data and information.
The highway assets in the context of TIMS comprise physical assets such as roads, bridges and associated structures and objects, as well as knowledge and technology assets such as information, expertise, software and hardware systems.
TIMS Development
TIMS is developed in house by the AT's experts and a team of third-party IT professionals. A uniquely valuable feature of the development strategy is to ensure that the transfer of TIMS knowledge to the prospective users of the system proceeds concurrent with the development, which also enriches timely user input into the development process.
Fig.1 represents a schematic of TIMS, which has been developed as a Web-based system allowing efficient user interaction with fully integrated data, information and expertise. The schematic shows the integration of data with decision making process and delivery of programs. The users obtain access to information in TIMS through a knowledge portal and can create information in the format they need. The system comprises 25 software applications integrated into a single system. The TIMS applications are depicted in figure 2 and may be categorized as follows:
Information Applications. These contain: advanced network mapping and satellite and digital video log imaging capabilities; highway network asset inventory data; and other data needed for the planning, creation and maintenance of assets during their entire service life.
Decision Applications: They contain techno- economic models for lifetime rationalization and optimization of programs and plans for the creation, enhancement and maintenance of assets.
Management Applications: they contain information needed for asset delivery and maintenance
TIMS Data Repository (TDR): this contains correct, current and complete information that are generated and used by various applications and users.
Communications Applications: they are applications for multimedia display of information, including reports and visual representations of information.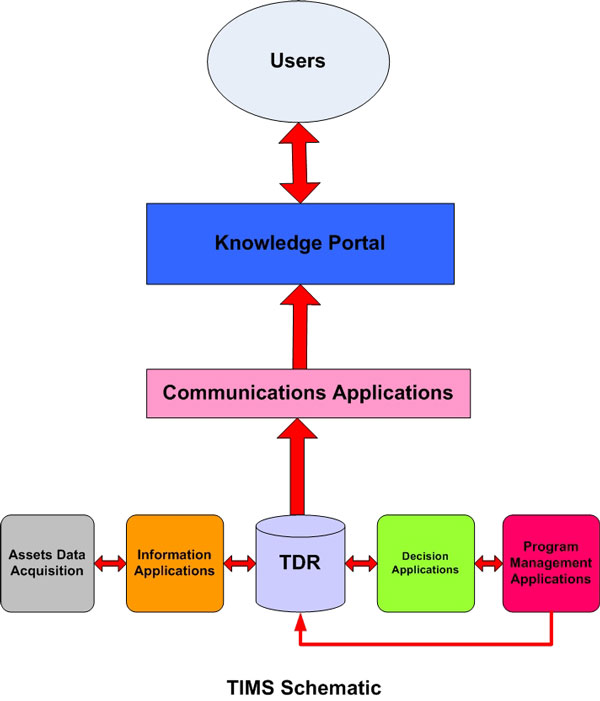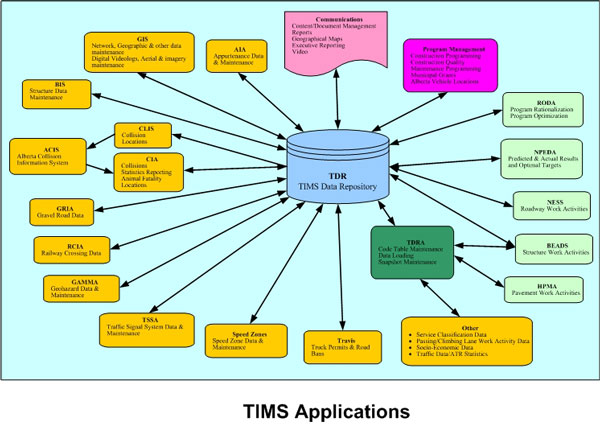 TIMS Value Proposition
Here are the main benefits of TIMS:
Gaining best lifecycle returns on investments in highway assets through knowledge –driven decisions
Demonstrating and documenting techno-economic rationale for investment decisions and performance criteria
Establishing a clear and reliable linkage between investment and asset performance
Creating a single, comprehensive, current and reliable source of data/information/experts
Optimizing the use of the department's knowledge assets: data, information, business processes & practices, and human capital
Enabling efficient collection, preservation, and updating of business-critical information
Enabling rigorous engineering-economic-environmental evaluations of projects & programs
Enabling collaborative problem solving and project execution
Excelling in organizational learning