Roundabouts
A roundabout is a circular intersection designed for improved traffic flow at a slower speed. Traffic circulates in a counterclockwise direction around a centre island. Vehicles entering the roundabout must yield to traffic already in the roundabout.
Benefits
Modern roundabouts help improve traffic flow and safety for motorists. The safety benefits of roundabouts include:
traffic moves at slower speeds
fewer conflict points for pedestrians and motorists
reduced potential for right angle (t-bone) collisions
elimination of head-on and high speed collisions
Vehicles using a roundabout are not forced to stop, which reduces delays, congestion, noise, fuel consumption and emissions. Roundabouts also have lower operation and maintenance costs than traffic signals.
more than 90% reduction in fatalities
80% reduction in injuries
40% reduction in total number of crashes
"Safety Effect of Roundabout Conversions in the United States: Empirical Bayes Observational Before-After Study." Transportation Research Record No. 1751, Transportation Research Board (TRB), National Academy of Sciences (NAS), Washington, D.C. 2001
How to use a single-lane roundabout on Alberta's highways
Note the appropriate exit.
Slow down as you approach the roundabout, and be aware of crossing pedestrians.
Yield to traffic inside the circular lane, and wait for an appropriate gap.
Maintain a safe speed, between 30 and 40 km/h, through the roundabout.
Signal for right turn as you approach the desired exit, while maintaining a safe speed.
Large Trucks
Roundabouts in Alberta have truck aprons around the centre island that provides extra room for semis and multiple-trailer trucks. The rear wheels of large trucks can drive across the truck apron thanks to its flat curb and gradual slope, allowing long vehicles to make wide turning movements. Truck aprons are designed to support the weight of large trucks and help long vehicles turn safely through roundabouts.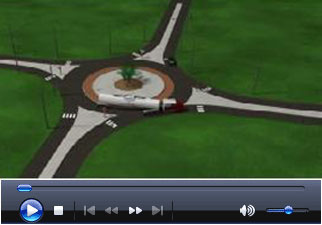 Roundabouts are different from Traffic Circles
Modern roundabouts are different from traffic circles, such as those built in Edmonton. The centre island of the modern roundabout is smaller and has been designed with a tighter curvature that encourages lower speeds, resulting in a safer intersection that can accommodate more vehicles per hour.
In addition, the pedestrian crossings on modern roundabouts are pushed back away from the intersection, providing better lines of sight for motorists and pedestrians.
To date, the Alberta government has built only one-lane roundabouts. However, modern roundabouts can be designed to safely accommodate two lanes of traffic.
Provincial Roundabouts
| | | |
| --- | --- | --- |
| | | |
| Highways 8 and 22 (opened fall 2007) - The province constructed a roundabout west of Calgary at the Highways 8 and 22 intersection. | | Sylvan Lake (opened spring 2008) - The Sylvan Lake roundabout is located at the intersection of Highways 11A and 20 near Sylvan Lake. |
| | | |
| Peace River (opened to traffic Nov. 2008) – The Peace River roundabout is located at the intersection of Highway 744, 96 Avenue, and 100 Street (Main Street). The final paving and landscaping work was completed in 2009. | | Highways 44 and 633 (opened to traffic Dec. 2013) - Alberta's most recent roundabout is located east of Villeneuve at the intersection of Highways 44 and 633. |