Southwest and West Calgary Ring Road Projects
Completing the Calgary ring road is a priority under the Alberta government's
Building Alberta Plan
.
Alberta Transportation is investigating the viability of delivering the final segment of Calgary's ring road in two separate projects by exploring using the
Public Private Partnership (P3)
procurement process. This delivery method allows us to begin the work on either road when we're ready. The P3 process has been used successfully five times during construction of the ring roads in Calgary and Edmonton, and has provided significant savings and value for Alberta taxpayers.
As part of the Government of Alberta's P3 process, business cases are being prepared to make sure that P3 procurement is appropriate for both projects: the West Calgary Ring Road (WCRR) and the Southwest Calgary Ring Road (SWCRR). Using due process, the government is procuring an owner's engineer to help develop the business case.
If both the business cases and the government support using Alberta's P3 model for project delivery, Alberta Transportation could possibly proceed first with procuring the WCRR, consisting of 15 kilometres from Highway 1 to 69 Street/Glenmore Trail. This project would be located on the existing Transportation Utility Corridor already owned by the provincial government.
In the meantime, the Government of Alberta, Tsuu T'ina Nation and Government of Canada will continue their work to fulfill obligations under the historic land transfer agreement signed November 27, 2013. The majority of the second project, the SWCRR consisting of 26 kilometres from south of 69 Street to Macleod Trail/Highway 22X, is located on current Tsuu T'ina Nation land.
Some specific details of both projects are:
West Calgary Ring Road

Highway 1 to 69 Street

15 km of six-lane divided roadway
29 bridges
River bridge at the Bow River
River bridge at the Elbow River on Highway 8
7 interchanges:

Highway 1 systems interchange (partially constructed)
Old Banff Coach Road SW partial interchange
Bow Trail SW interchange
17 Avenue SW partial interchange
Highway 8 systems interchange
69 Street SW interchange
Valley Ridge Boulevard NW/Highway 1 interchange
2 Avenue SW underpass

SW Calgary Ring Road

69 Street to Macleod Trail/Highway 22X

26 km of six and eight-lane divided roadway
37 bridges
Crossings of Elbow River and Fish Creek
Rail flyover
13 interchanges:

Westhills Way SW interchange
Sarcee Trail SW interchange
Old Strathcona Road SW interchange
90 Avenue SW interchange
Anderson Road SW interchange
130 Avenue SW interchange
146 Avenue SW interchange
162 Avenue SW interchange
Stoney Trail/Highway 22X systems interchange
Spruce Meadows Way SW/James McKevitt Road SW interchange
Sheriff King Street SW/6 Street SW partial interchange
Macleod Trail SW interchange
37 Street SW/Glenmore Trail onterchange
Final approval and timing of these projects are subject to Treasury Board approval and available funding. If there is approval to move forward with a P3, a Request for Qualifications (RFQ) for WCRR could begin as early as spring 2014, with a contractor being selected by spring 2015. A subsequent RFQ for the SWCRR could begin in early 2015, if agreement obligations are fulfilled. A contractor for the second project could potentially be selected by early 2016, pending agreement discussions.
Currently, Calgary's ring road is 70 per cent complete. When finished, the Calgary Ring Road will offer motorists 100 kilometres of free-flow travel.
Historic Agreement Signed for SW Ring Road
The Government of Alberta and Tsuu T'ina Nation signed a historic agreement setting the groundwork for the southwest leg of Calgary's ring road. Alberta Premier Alison Redford, Tsuu T'ina Nation Chief Roy Whitney and Alberta Transportation Minister Ric McIver put their names to the Transportation and Utility Corridor Agreement. The agreement allows for the exchange of money and land, so the last portion of Calgary's ring road can be built.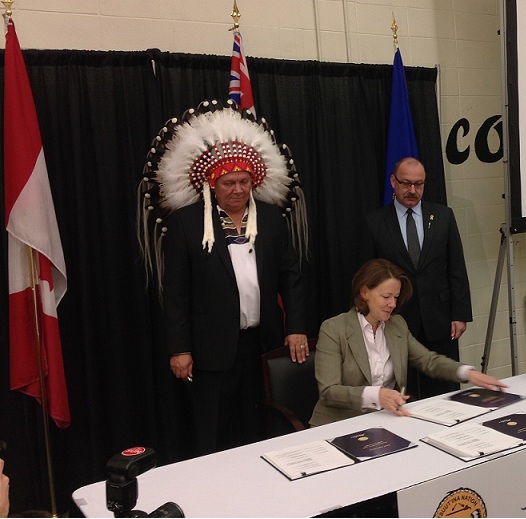 An update to the project can be found here.