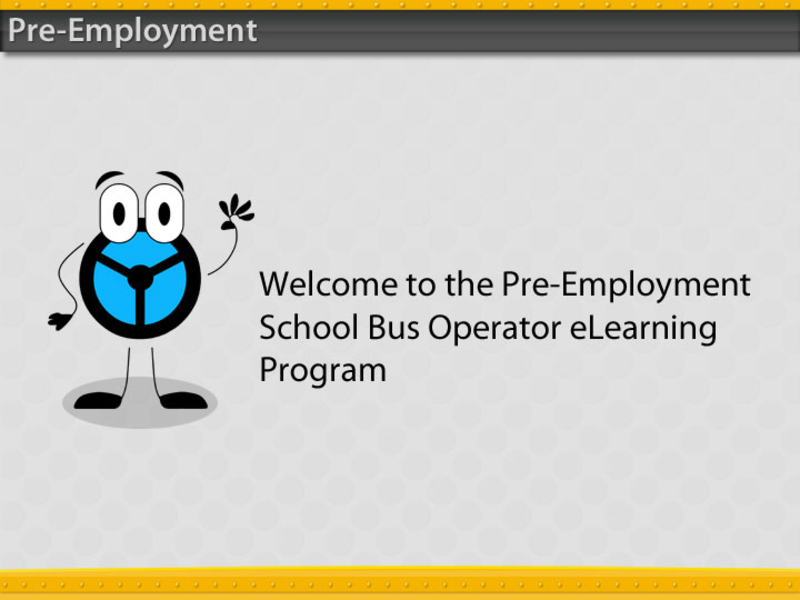 This eLearning course is designed to meet the recommendation for the standardized pre-employment training in the Alberta School Bus Report; Ensuring the Safety of Our Children. This course does not replace the "S" endorsement.
When you first log-on you will be requested to provide your first and last name along with an email address or password. There will also be a security word that you will need to type in the blank box below the security word. This information will be used to track your progress. When you log-off the course, you will be able to log back on using the same name and email or password and be able to resume the course at the point where you left. Your name will be used to print a certificate of completion at the end of the course. Note that there are no provisions for resetting a password. If you have forgotten the password you will be required to start from the beginning of the course.

The personal information collected is for the operation of the eLearning course under the authority of the Freedom of Information and Protection of Privacy Act. The personal information will not be used for any other purpose and if you have questions regarding this collection contact;

Jerry Pawluk
Alberta Transportation
Driver Programs and Licensing Standards
Room 109 Main Floor, Twin Atria Building
Edmonton, Alberta
T6B 2X3
Ph. 780 427-6777

The pre-employment course consists of 5 modules. The topics covered are;
Pre-Trip Inspection and Maintenance
Loading and Unloading Passengers
Passenger Management
Defensive Driving
Emergencies
A person must successfully complete all the modules before a certificate of participation may be printed.
In the modules there are exercises that will help you understand the content. Each module also has a "Check Your Understanding" section for you to review your understanding of that module. There is no pass or fail for the "Check Your Understanding" sections but each must be completed to continue on to the next topic. You must complete the modules and Check Your Understanding sections in order, but there is no time limit to complete the course.

To begin the course, click on the link below to start your training:
Pre-Employment Training
Note: You need the Macromedia Flash 10 plug-in (or higher) installed on your computer to view this program. You can get the latest flash plug-in for free here.