Highway 63
The Government of Alberta remains committed to upgrading Highway 63 for the safety of motorists, and to improve traffic flow. The twinning of Highway 63 between Grassland and Fort McMurray by fall 2016 remains on track and on time as part of our investment in families and communities, and improves market access.
This is about investing in a region that makes a tremendous contribution to the province's economy, and making a difference in the daily lives and commutes of the many people who work and live here.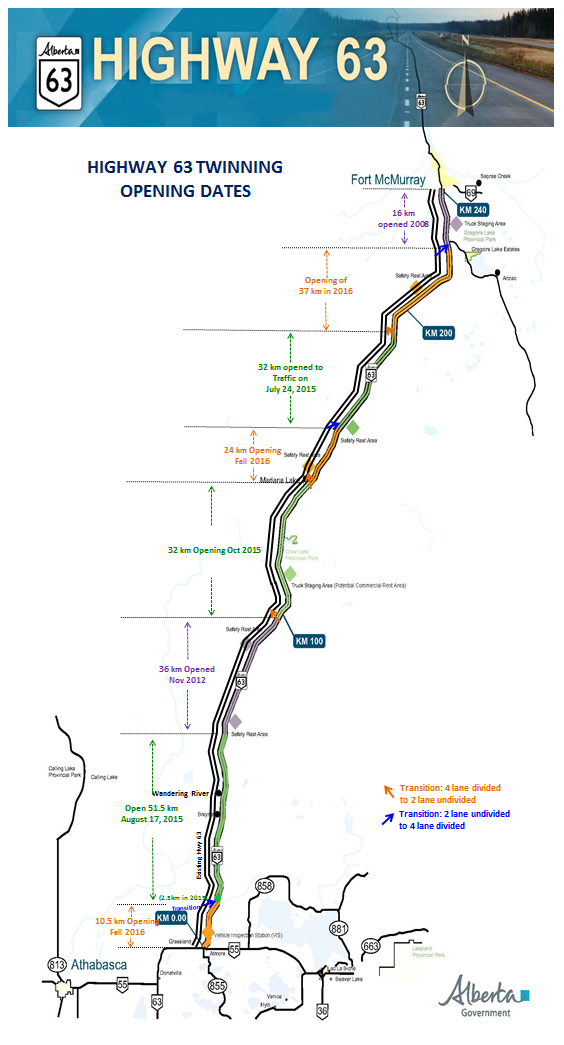 Click the image to view full size.
Investment
When the twinning is complete in 2016, government will have invested $1.2 billion on the twinning project.
Milestones
The opening of the 32 kilometre section of twinning south of Mariana Lake means that 70 per cent or 168 kilometers of Highway 63 between Grassland and Fort McMurray is twinned and open to traffic.
Albertans can look forward to a fully twinned 240-kilometre stretch of Highway 63 by fall 2016.
Projects currently under construction:
37 km of twinning (grading/paving/bridges) from South of Horse Creek to North of Hangingstone River – summer 2016 completion.
24 km of grade, base and pave from south of Marianna Lake to north of Marianna Lake - fall 2016 completion
11 km of grade/base/pave work north of Grasslands, the creation of three new wetlands areas and a median vehicle inspection station – fall 2016 completion.
Construction projects in Fort McMurray include:
Phase I of Parsons Creek interchange – public access by end of 2015 and completion in 2016.
Confederation Way and Thickwood Boulevard interchanges completed fall of 2014.
Construction on Steinhauer, Grant MacEwan Bridges, and Franklin tunnel to provide ten lanes of Highway 63 over the Athabasca River completed fall 2013.
The communities and industries in Wood Buffalo are growing rapidly. When we finish twinning 240 kilometres of Highway 63 between Grassland and Fort McMurray in 2016, Alberta Transportation will have invested more than $2 billion since 2005 in the twinning and other improvements to highways in the Wood Buffalo region.
In 2013, we awarded the three largest non-P3 transportation contracts ever for Alberta, worth more than $425 million.
$147 million to twin 32 kilometres of Highway 63 between House River and south of Mariana Lake, including three new bridges,
$150 million to build the first phase of the Parson's Creek Highway 63 interchange, and
$130 million to twin 25 kilometres of Highway 63 from south of Horse Creek to north of Hangingstone River.