Highway 2 Gaetz Avenue Interchange Improvement Project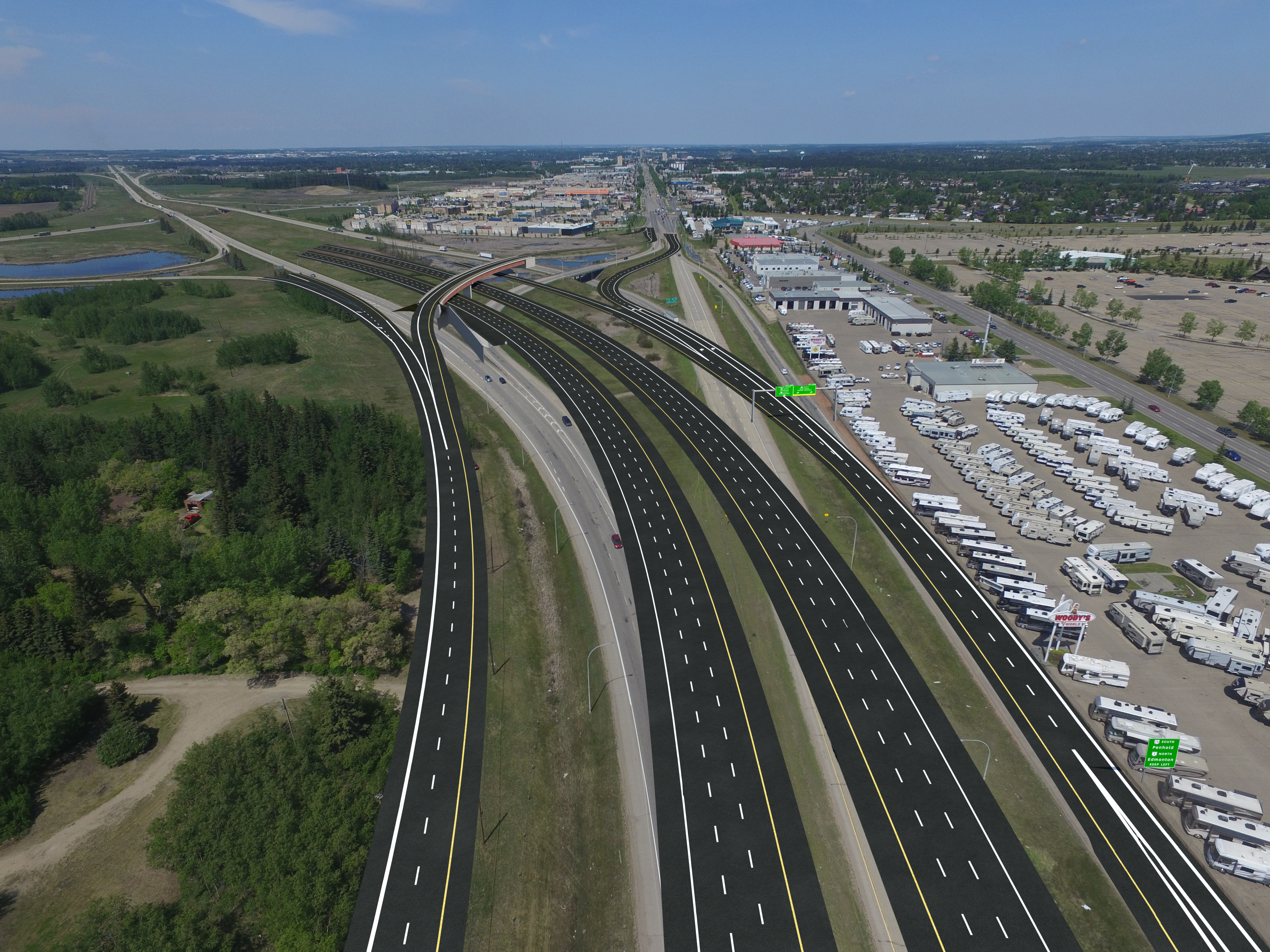 What's New
Taylor Drive will be closed to traffic, from 19 Street to south of the Highway 2/2A turn-off each night from Friday, November 17 to Wednesday, November 22, 2017. The closures will be in effect from 9 p.m. to 7 a.m. and are required to protect motorists while crews demolish the existing southbound bridge structure over Highway 2. This work is weather dependent and may need to be rescheduled.
Detours will be in place during the night and will be removed when Taylor Drive re-opens to traffic in the morning.
Motorists wanting to head south on Taylor Drive will be re-routed to the Highway 2/32 Street interchange, then back to the Highway 2A turn-off. Click here to see a sketch of the new traffic set-up.
Motorists wanting to travel north on Taylor Drive from Highway 2A will be detoured to the Highway 2/McKenzie Road interchange, then back north on Highway 2 to access Taylor Drive from 19 Street. Click here to see a sketch of the new traffic set-up.
Southbound Highway 2 traffic approaching Hwy2A/Taylor Drive will be temporarily detoured onto the recently completed bridge structure over Taylor Drive as of Tuesday, November 7, 2017.
Motorists will still be able to access Highway 2A/Taylor Dr. as part of this detour set-up. Click here to see a sketch of the new traffic set-up.
Reduced speed limits may be in effect along southbound Highway 2 through this transition period and minor delays are expected. Motorists are asked to drive safely and obey the speed limits through the construction zone.
To view current traffic conditions on:
What to Expect in 2017
The following work is planned for 2017:
Building up reinforced fill on both sides of Taylor Drive to stabilize the embankment for the new bridges
Construction of concrete deck/barriers for the northbound Highway 2 bridges over Taylor Drive, and open one of the new bridges to traffic
Completion of the mechanically stabilized earth (MSE) walls along Taylor Drive
Completion of the paving of the northbound lanes on Hwy 2 and have them open to traffic
Re-opening of Gaetz Avenue access from northbound Hwy 2
You can also find information on the City of Red Deer's work on Taylor Drive here. Please watch for various traffic detours throughout the 2017 construction season.
2016 Construction Progress
Southbound Gaetz Avenue to Highway 2 was closed in September 2016 to facilitate construction of the new Gaetz Avenue bridge and new Highway 2 alignment.
Temporary traffic signals were installed at the Highway 2A (Taylor Drive) interchange ramp to provide detour access to Highway 2 southbound.
Grading work began in the median of Highway 2.
Foundation piles were driven for the Taylor Drive and Gaetz Avenue bridges.
A noise berm adjacent to Waskasoo Estates was constructed.
Other work included: wick drain installation in the northwest area of the interchange, storm pipe installation and temporary retaining walls were constructed.
For more information, please email us at info@hwy2gaetz.com.
---
In 2016, Alberta Transportation began a multi-year project to construct a new interchange at Highway 2, Gaetz Avenue and Taylor Drive, south of the City of Red Deer.

In addition to being an important corridor for highway travel, Gaetz Avenue and Taylor Drive provide access to key destinations for local residents.

The new interchange will:
Accommodate increased traffic volumes on Highway 2 by providing for three lanes in each direction.
Improve safety for motorists on these roads by separating high and low speed traffic getting to and from the highway.
Integrate the Taylor Drive and Gaetz Avenue interchanges into one full interchange system, improving safety and ease of travel.
Construction of the interchange began September, 2016, and is estimated to be completed in fall 2018, weather dependent.
The project will include the removal of three bridge structures, construction of five new bridge structures, reconfiguration of ramps and intersections, realignment of Highway 2, expansion to six lanes between 32 Street and Mackenzie Road and the construction of new collector-distributor roads.
The interchange system is designed to separate high speed highway traffic from low speed local traffic. This will be accomplished with the construction of a new collector-distributor road system. The collector-distributor road system will include a one-way road on each side of the highway that will run parallel to the highway.
Motorists can expect some delays in the area during construction, however, two lanes in each direction will be open on Highway 2 during the day, and access to businesses in Gasoline Alley East and Gasoline Alley West will be maintained.
Links
Construction/Traffic Cameras
To view a live feed of construction activities and traffic, please click here.
Video Fly Through
To view a video fly through of the project, click here.
For the most up-to-date information on construction or travel delays, please visit 511.alberta.ca or search #hwy2gaetz @511Alberta and @ABTransComm on Twitter.