Highway 2 / Gaetz Avenue Interchange Improvement Project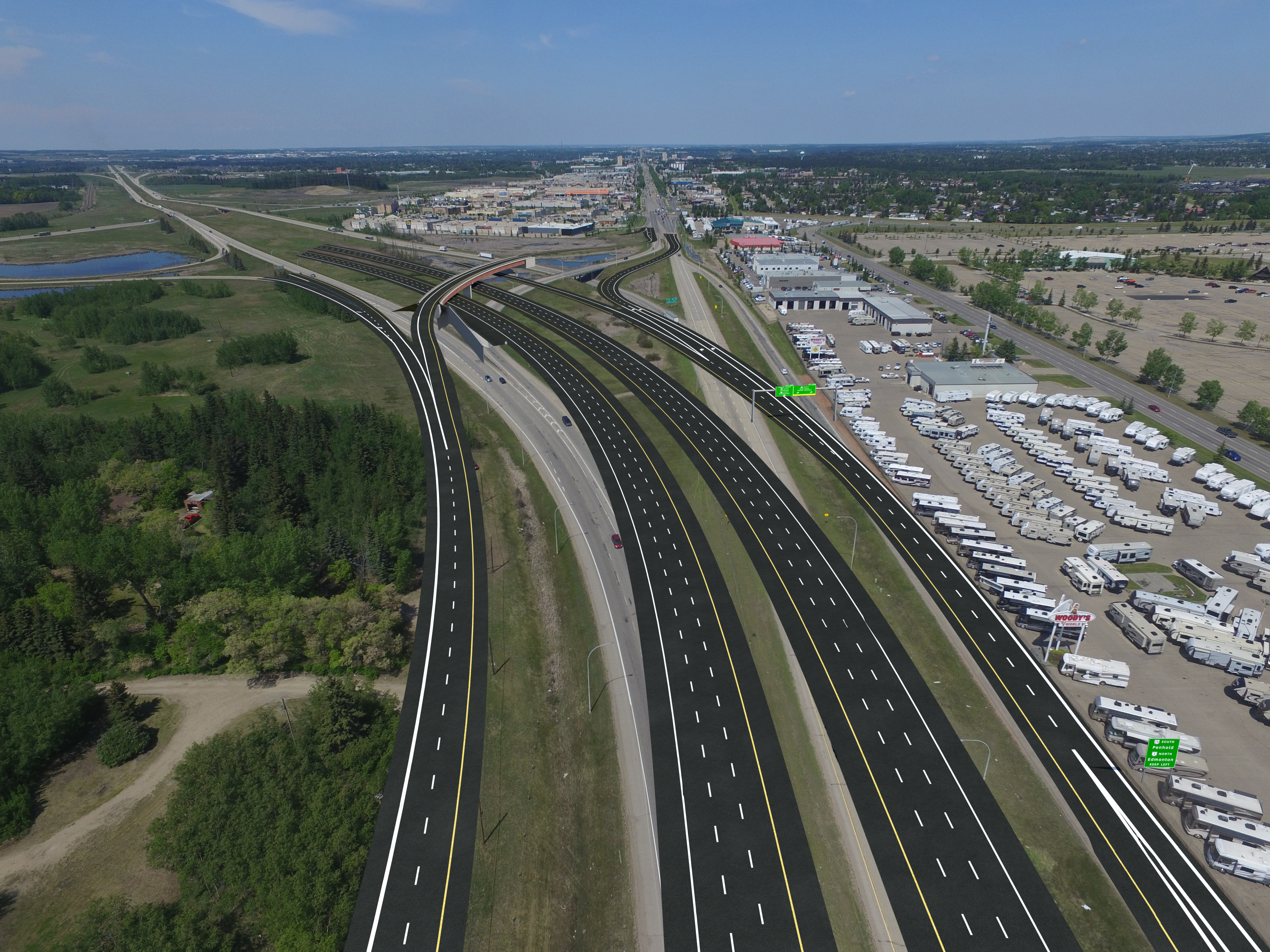 What's New
On the evening of Wednesday, November 14, the southbound collector-distributor roadway will be permanently open, providing direct access to southbound Highway 2A and Gasoline Alley West.
On Thursday, November 15, the southbound Highway 2 bridge and lanes will be open to traffic.
As of September 4, southbound Gaetz Avenue, and the access to Southpointe Common Mall from Gaetz Avenue, has been temporarily closed. All access to the mall from 19 Street is being maintained. Motorists heading southbound on 50 Avenue wishing to access the mall are being detoured to the access on 19 Street. This closure is expected to last up to two months, weather dependent, and is required to re-construct the mall access and new southbound Gaetz Avenue lanes.
On July 26,  the frontage road along Gasoline Alley West (between the businesses and Highway 2) was permanently closed. This change is necessary to provide safer access and additional lanes to Highway 2.

Access to Gasoline Alley West from southbound Highway 2 is provided by the new southbound collector-distributor road.
Access to Gasoline Alley West for northbound traffic remains unchanged.
Alberta Transportation is currently working with Red Deer County to provide an alternate commercial truck rest area at Highway 2 and Highway 42, south of Red Deer. It is anticipated to open later this year.

Reduced speed limits remain in effect. Motorists are asked to drive safely and obey the speed limits through the construction zone.
To view current traffic conditions on:
What to Expect in 2018
The following work is planned for 2018:
Girder installation for the Gaetz Avenue bridge over the winter, and completion and opening of the bridge in late 2018
Construction of the new southbound Highway 2 bridge over Taylor Drive
Completion and opening of the northbound and southbound collector-distributor bridges over Taylor Drive
Demolition of the old northbound Highway 2 bridge over Taylor Drive
Opening of the permanent alignment for Gaetz Avenue northbound
Completion of remaining two MSE walls
Opening of the roundabout at Leva Avenue
Closure of Gasoline Alley West frontage road (to coincide with the opening of the southbound collector-distributor road)
Construction of overhead sign structures and guide signs
2017 Construction Progress
A significant amount of bridge work was completed in 2017, including:
Opening of the new northbound Highway 2 bridge over Taylor Drive
Construction of the northbound collector-distributor road bridge over Taylor Drive (80% complete)
Construction of the southbound collector-distributor road bridge over Taylor Drive (60% complete)
Demolition of the Gaetz Avenue bridge
Demolition of the old southbound Highway 2 bridge
Construction of the abutments for the southbound Gaetz Avenue bridge
Pier construction for the Gaetz Avenue bridge
Other accomplishments for 2017 included:
Construction and opening of the new northbound and southbound lanes along Highway 2
Some widening of the existing Highway 2
Construction of the majority of the mechanically stabilized earth (MSE) walls (2 short sections remain to be constructed)
Street lighting replacement at the Highway 2 / 32 Street interchange
Construction of high mast street lights in the median of Highway 2
Grading of the roundabout at Leva Avenue

Grading work for the northbound and southbound collector-distributor roads
For more information, please email us at info@hwy2gaetz.com.
---
In 2016, Alberta Transportation began a multi-year project to construct a new interchange at Highway 2, Gaetz Avenue and Taylor Drive, south of the City of Red Deer.

In addition to being an important corridor for highway travel, Gaetz Avenue and Taylor Drive provide access to key destinations for local residents.

The new interchange will:
Accommodate increased traffic volumes on Highway 2 by providing for three lanes in each direction.
Improve safety for motorists on these roads by separating high and low speed traffic getting to and from the highway.
Integrate the Taylor Drive and Gaetz Avenue interchanges into one full interchange system, improving safety and ease of travel.
Construction of the interchange began September, 2016, and is estimated to be open to traffic in 2018, and completed in 2019, weather dependent.
The project will include the removal of three bridge structures, construction of five new bridge structures, reconfiguration of ramps and intersections, realignment of Highway 2, expansion to six lanes between 32 Street and Mackenzie Road and the construction of new collector-distributor roads.
The interchange system is designed to separate high speed highway traffic from low speed local traffic. This will be accomplished with the construction of a new collector-distributor road system. The collector-distributor road system will include a one-way road on each side of the highway that will run parallel to the highway.
Motorists can expect some delays in the area during construction, however, two lanes in each direction will be open on Highway 2 during the day, and access to businesses in Gasoline Alley East and Gasoline Alley West will be maintained.
Links
Construction/Traffic Cameras
To view a live feed of construction activities and traffic, please click here.
Video Fly Through
To view a video fly through of the project, click here.
For the most up-to-date information on construction or travel delays, please visit 511.alberta.ca or search #hwy2gaetz @511Alberta and @ABTransComm on Twitter.