2017 SW AHD Noise Study
Alberta Transportation will be conducting a noise study for the southwest section of Anthony Henday Drive between the Highway 16 Interchange and Queen Elizabeth Highway 2 in spring 2017. The purpose of the study is to assess the impact of Anthony Henday Drive traffic on noise in the area.
Noise Monitoring and Modeling
The study will include noise monitoring at 13 locations along the roadway. The data collected from these 13 locations will†assist in developing†an accurate computer model of noise levels at 1.2 metres above ground level and 2 metres inside the property line of houses in the study area. Modeling noise at these specific coordinates is part of Alberta Transportationís policy, to ensure that noise modeling conditions are the same for everyone, resulting in fair, accurate data.
The model will†generate noise levels at approximately 460 residential locations.†In addition, a†colour†noise†map†will be generated,†like this one, showing varying noise levels in the study area: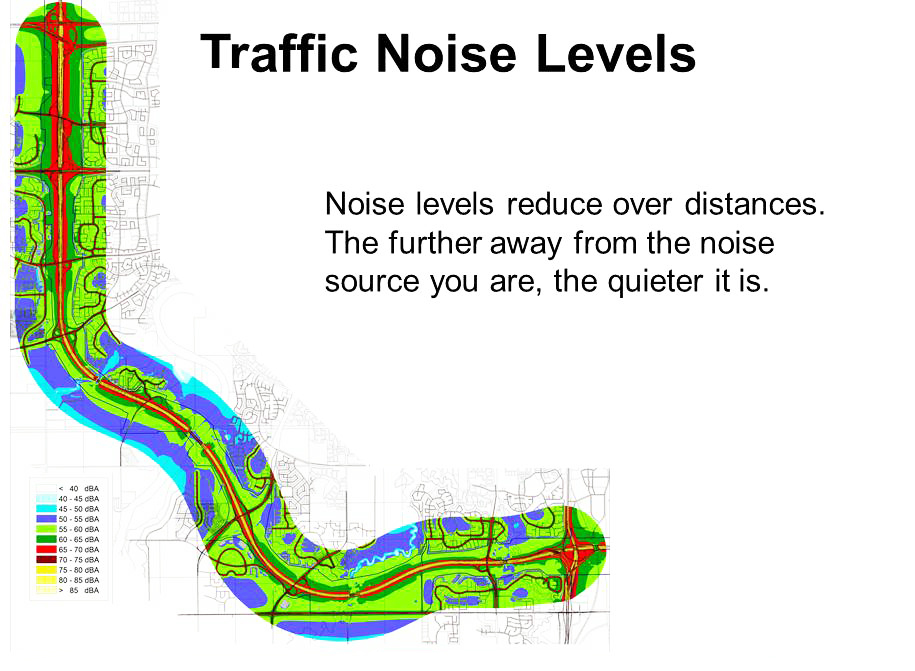 The computer noise model will use current traffic conditions as well as future projected traffic conditions to see what noise impacts will be under various conditions. The complete report is anticipated to be available in late summer 2017. These results will be compared to the Alberta Transportation Noise Guidelines and the two previous noise studies,†completed in†2007†and†2013. At that point, possible noise attenuation options may be explored, should they be warranted.
Open House
An Open House for this noise study was held on Monday, October 24, 2016. A presentation about the study was given by the project team and followed by a Question and Answer session. In addition, a comment form was available for attendees to provide feedback about the impact of Anthony Henday traffic noise on their neighbourhood.
Click here to view the noise study open house presentation.
Wedgewood community Noise Report
Open House What We Heard Report
Alberta Transportation Noise Attenuation Guidelines for Provincial highways Under provincial Jurisdiction Within Cities and Urban Areas.