Peace River Bridge Twinning Project
The Alberta Government is investing in a major infrastructure improvement project in Peace River—constructing a new bridge and twinning Highway 2 through town, between the 100 Avenue interchange and Shaftesbury interchange (Highway 684). This upgrade will reduce congestion, improve traffic flow and safety for travellers, local residents and businesses and create hundreds of employment opportunities in the region.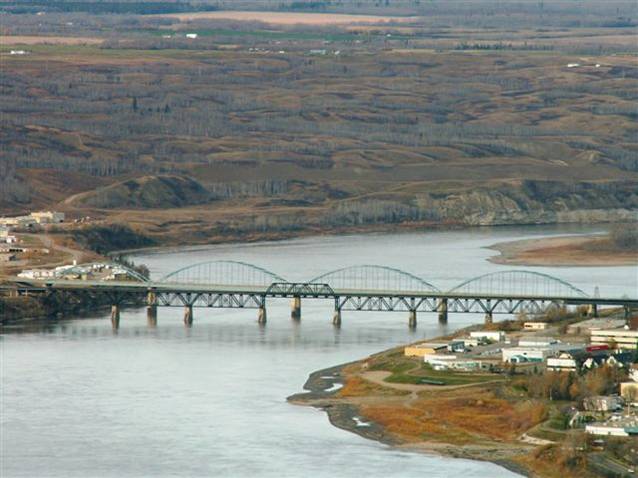 The existing Peace River Bridge, shown here, will be twinned as part of this project. This bridge will carry traffic east and the new bridge will carry traffic west.
The project includes the construction of a new bridge structure, with traffic flowing west through Peace River on the new bridge and east through Peace River on the old bridge, as well as the twinning of 1.6 kilometres of Highway 2 through Peace River. The new bridge will also have a pedestrian walkway built underneath, lit with colour-changing LED lights. This project also includes upgrades to the 98 Street and Shaftesbury interchanges.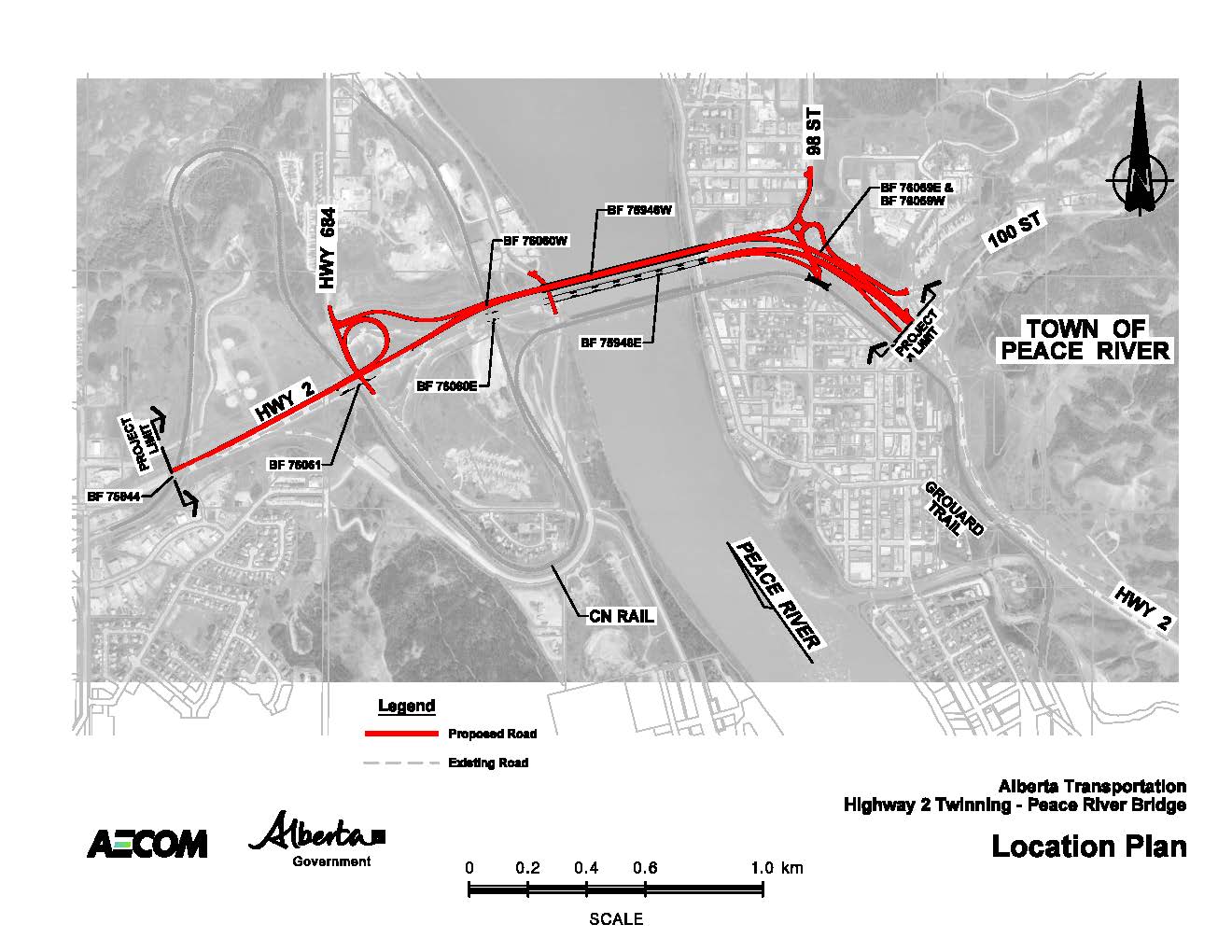 This shows the work that will be done to twin Highway 2 through Peace River over the next four years.
Click here to view the detailed twinning plans.
Preliminary planning on the project got underway in 2001 with design work commencing in 2010. Necessary land to proceed was purchased in 2016 and the former Town of Peace River maintenance shop demolition and site remediation was completed in December 2016. Remediation work at the former Imperial Oil site is underway. These two smaller projects both require completion before major construction starts.
Project benefits
The Peace River bridge is a high traffic structure that is part of the National Highway System and sees over 17,000 vehicles per day, including industry and agriculture traffic. The nearest alternative route to cross the Peace River involves a 70 kilometre detour. Peace River's hospital lies on one side of the bridge with schools, fire and police services on the other. This means that access to emergency services is an issue when a collision or bridge maintenance occurs. Twinning the Peace River Bridge will not only address emergency access and ease congestion within the Peace River community, it will also provide improved access to key resource industry areas in northern Alberta.
This project will help put Albertans to work, support families and local business and set the stage for future economic growth.
Updates
Updates will be posted here as new details emerge.
The contract for the Peace River Bridge Twinning project has been awarded to Flatiron-Aecon Joint Venture (FAJV) with a modified tender bid price of $148,295,506.30. FAJV started construction in December 2017. The project is expected to be completed in fall 2020, weather permitting.
An information session was held June 13th, 2017 at the Belle Petroleum Center in Peace River.  AECOM and Alberta Transportation representatives were in attendance to outline the project with attendees. To view the boards that were presented at the information session, click here.
**Alberta Transportation has filed an application under the provisions of the Water Act for construction of this project.  See the Notice of Application.
For more information on this project, please contact: Rashid Ahmad at 780-624-6280rashid.ahmad@gov.ab.ca.
 or