Calgary Ring Road
Third section of circle underway
The Government of Alberta and The City of Calgary began planning for the Calgary Ring Road in the 1970s. During the 1980s and 1990s, the province purchased most of the lands needed for the Transportation Utility Corridor around Calgary where the ring road would be built. With the northwest, northeast and southeast sections in operation – known collectively as Stoney Trail – the ring road now provides motorists with 70 kilometres of free-flow travel. It connects Highway 2 (Deerfoot Trail) in the south to Highway 1 (TransCanada Highway) towards Banff.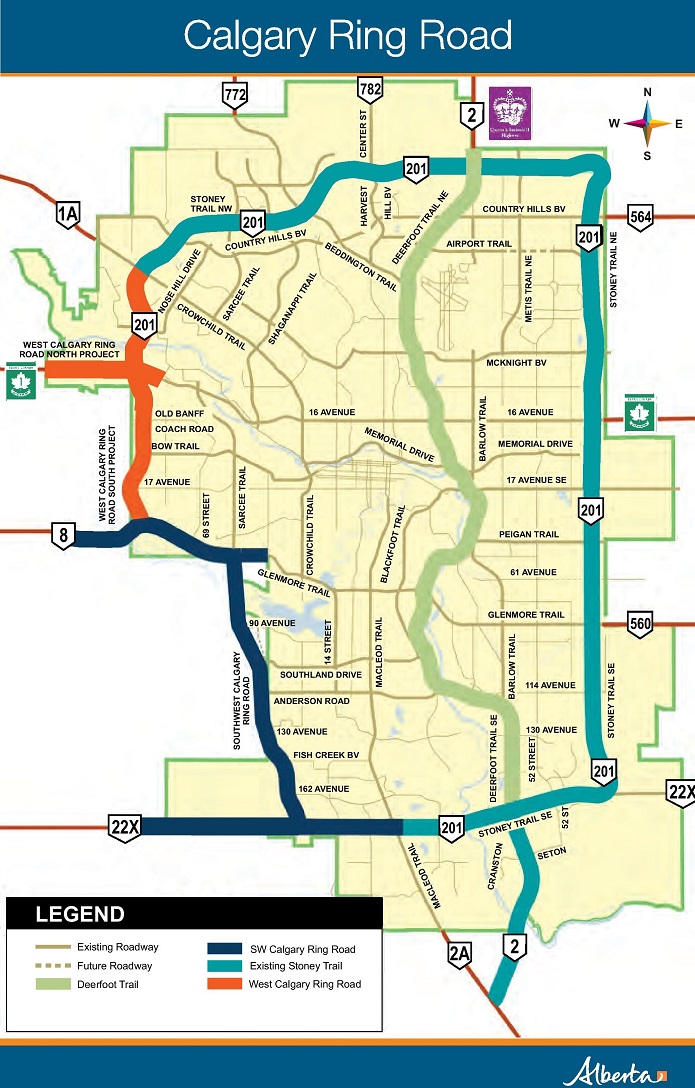 Click on the image above to link to an interactive map.
Completing the ring
Completing the full 101 kilometres of the Calgary Ring Road is a priority for Alberta Transportation, and is an investment in the long-term safe and efficient movement of goods and people in and around Calgary. The ring road will also provide improved market access across Calgary, the province, Canada and to foreign ports.
Southwest Calgary Ring Road
Preliminary construction work on the 
Southwest Calgary Ring Road
project got underway in July 2016. Major construction is scheduled to start in spring 2017, with completion anticipated in fall 2021. The Government of Alberta announced a Request for Proposals in September 2015. The project reached financial close on September 13, 2016 with Mountain View Partners as the successful proponent.
Click here to visit the SWCRR project website, where up-to-date construction and traffic information will be available on a daily basis throughout the duration of the project.
For more information about the project, email your questions to info@SWCRRproject.com
Work to date
Alberta Transportation started long-term functional planning studies in 2003, with studies covering three legs.
The Technical Review Committees for the studies included representatives from the City of Calgary, Rocky View County, the MD of Foothills and the Tsuut'ina Nation.
Several public consultation meetings were held between 2005 and 2009 before the studies were completed and amalgamated in 2011.
In November 2013, the Government of Alberta and the Tsuut'ina Nation signed an historic land transfer agreement which paved the way for completion of the future ring road.
The federal government has implemented the agreement between the Tsuut'ina Nation and Alberta, as laid out in the land transfer agreement of November 27, 2013. Provincial Crown lands have been added to the Tsuut'ina Nation reserve and 1,058 acres of former reserve land were transferred to Alberta on May 22, 2015.
The province is moving forward on the construction of the Southwest Calgary Ring Road using a Design-Build-Finance-Operate procurement process.
On July 5, 2018, the West Calgary Ring Road (WCRR) project was announced. The WCRR is scheduled to open to the public in 2022. For more information, check out the WCRR project page here. 

The Southwest Calgary Ring Road is expected to be open to traffic in 2021.
West Calgary Ring Road
The timing for the West Calgary Ring Road, the final nine kilometres of the circle, is under review.
Follow these links for more information on:
| | |
| --- | --- |
| | Click here to email your questions on the Calgary Ring Road |