Second call for GreenTRIP applications now open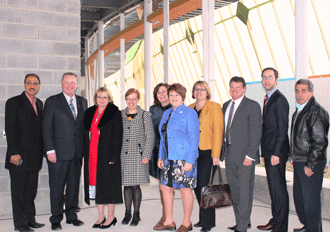 Minister Wayne Drysdale officially opened the second call for GreenTRIP applications on April 15. The event took place inside Strathcona County's Bethel Transit Terminal--currently under construction but slated to open summer 2014--which was approved for $13.6 million in GreenTRIP funding as part of the first round of projects. The deadline for receipt of second call project applications is November 30, 2014. Read new release.
511 Alberta Celebrates its first year
Alberta Transportation Minister Wayne Drysdale celebrated 511 Alberta's first birthday on February 4, 2014. In its first year, the 511 Alberta website has received close to 200 million hits from 1.2 million unique visitors who needed reliable, up-to-date road information.
At 511 Alberta's first-year anniversary, Minister Drysdale officially launched 511 Mobile: a greatly enhanced mobile version of 511 Alberta designed for viewing on most mobile devices.
In celebration of 511 Alberta's first year, Minister Drysdale also announced 511 Alberta's Twitter Follower Appreciation Campaign. Each week in February, 511 Alberta will randomly select an @511Alberta Twitter follower to receive a Winter Emergency Car Kit.
Medicine Hat welcomes five lanes of TransCanada Highway bridge
Alberta's new Transportation Minister Wayne Drysdale opened the $19 million TransCanada Highway bridge in Medicine Hat on December 18, 2013. Motorists now have two lanes of free-flow westbound Highway 1 traffic over the South Saskatchewan River and three eastbound lanes.
Highway of Heroes
At the bridge opening, Minister Drysdale presented Leona and David Stock, whose son Stephan was killed in Afghanistan in 2008 while serving with the Canadian Armed Forces, with a framed "Highway of Heroes" plaque.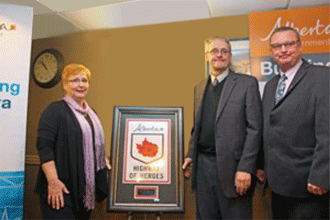 This past summer, the Alberta government renamed the section of the TransCanada Highway that runs through Redcliff and Medicine Hat to include "Highway of Heroes" in the road's title as a tribute to Canada's slain servicemen and women.
10 lanes over the Athabasca River in Fort McMurray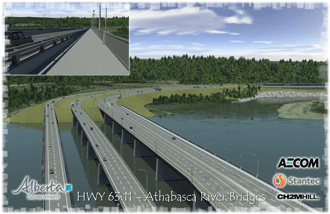 Alberta Transportation opened the new Grant MacEwan Bridge December 10, 2013, seven months ahead of schedule, supporting province-wide economic development and helping ease commuter traffic congestion in Fort McMurray. By accelerating the project's final phase of construction, the Alberta government has been able to provide Albertans with 10 lanes of free-flow Highway 63 traffic over the Athabasca River with direct access to and from Fort McMurray's downtown core.
This is one of a number of key transportation projects underway or recently completed in the area.
By better separating local, commuter traffic from commercial vehicle through-traffic, the newly rebuilt Grant MacEwan Bridge creates a safer Highway 63 and improves traffic flow within Fort McMurray.
2014 Minister's Award for Transportation Innovation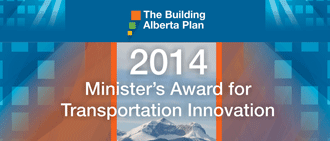 Submissions for the 2014 Minister's Award for Transportation Innovation are now closed. Thank you to all who submitted nominations. The awards will be presented at the 2014 Tri-Party Conference being held in Red Deer on March 24 and 25, 2014.
Alberta Flood Recovery
Interactive map with flood photos and videos
Rebuilding roads and bridges, reconnecting communities
The June 2013 floods that ravaged Southern Alberta and parts of Central Alberta have been described as the most damaging and costliest disaster in this province's history.
During the first days of the flood, Alberta Transportation staff - along with the department's Highway Maintenance Contractor - worked tirelessly to inspect all accessible provincially-managed roads and bridges to identify damage. Preliminary repairs were completed at many of those sites. Thorough engineering inspections were then undertaken to identify potential major reconstruction projects. Since then, as part of the recovery effort, government has had engineers, inspectors and consultants on the job getting flood-damaged parts of the province's highway network repaired.
View an interactive map with links to photos and videos of the flood damage and subsequent repairs to Alberta's provincial transportation network.
Reopened highways
Smith-Dorrien/Spray Lake Trail is open from junction Highway 40 to Highway 742
Hwy 1A
Hwy 734 at Ram River Bridge
Current highway closures
Powderface Trail (Dawson Equestrian Area – Junction Hwy 66)
Forestry Trunk Road (Kananaskis Improvement District) from Cataract Creek to the junction of Highway 532
Highway 532 from junction Forestry Trunk road to Johnson Creek Bridge
Highway 547 at Bow River Bridge
Ferry Closure
Crowfoot Ferry (Bow River) is docked and closed until further notice
The government also has important information for Albertans and others whose vehicles may have been damaged during flooding.
Up-to-date road information, including traffic delays and road closures, is available at 511.alberta.ca, @511Alberta or by calling 5-1-1.
Alberta Traffic Safety Plan
The Office of Traffic Safety continues to implement the Traffic Safety Plan which is aimed at reducing deaths and injuries on our roads.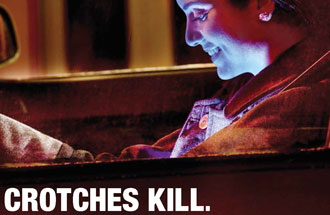 Distracted driving is a serious issue in our province. To address this concern, Alberta Transportation has developed a new advertising campaign that illustrates the dangers of texting when behind the wheel. Learn more about the
"Crotches Kill" campaign

We're developing a long-term Transportation Strategy for Alberta that will focus on the many ways to move people and products over the next 50 years. Find out how you can be part of the conversation.
Budget 2014 support for rural highways
Transportation Minister Wayne Drysdale hit the road on March 24 to meet with Rimbey Mayor Rick Pankiw and Ponoka County Deputy Reeve Bryce Liddle at the start of a planned 29-kilometre rehabilitation project on Highway 53. Albertans will see more construction crews on roads and bridges as part of the Alberta government's three-year, $5 billion investment to expand and rehabilitate the provincial highway network. Read the regional news releases and view southern, central and northern Alberta project maps.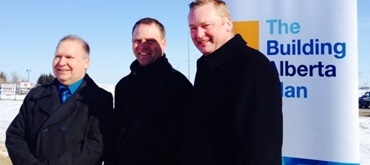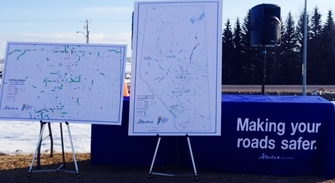 GreenTRIP Funding Supports Families and Communities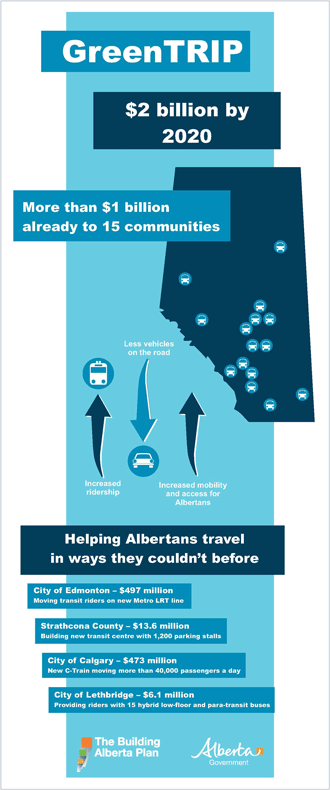 Southeast Stoney Trail Opens
The Redford Government officially opened the newest section of Calgary's ring road, Southeast Stoney Trail on November 22, 2013, providing all Albertans and commercial drivers with 25 more kilometres of free flow, six-lane freeway. Adding this newest stretch of the ring road now offers travellers access to 70 kilometres of Stoney Trail from just east of Macleod Trail on the south side of Calgary around the east side of the city to Highway 1 heading toward Banff, a $1.9 billion investment in Alberta's core transportation network.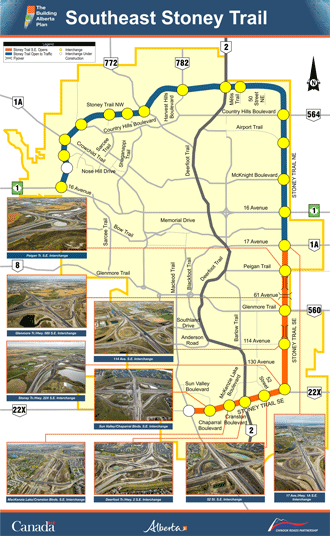 Southeast Stoney Trail open to traffic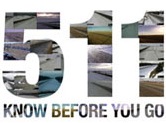 511 Alberta is the official provincial road reports service, available by phone, mobile device or computer. 511 provides information on highway conditions, roadwork, major incidents like detours and closures, weather alerts, availability of ferry services and wait times at border crossings. Find us on the internet at 511.Alberta.ca, by phone by calling toll free to 5-1-1 and on Twitter @511Alberta.
511 Alberta videos are available here to view.
511 Alberta photos are available here to view.
New West Partnership

Click here to access information about the New West Partnership, an agreement to enhance trade, mobility and investment.
News
Last updated: Apr 24, 2014 15:51