Programs and Services
Capital Plan, Road Conditions, Ring Roads, Maintenance Contracts, Road Restrictions/Bans
Grants, Traffic Safety Calendar, Traffic Safety Plan, Saferoads, Office of Traffic Safety Reports
Municipal Grants, GreenTRIP, Alberta Municipal Water/Wastewater Partnership (AMWWP)/ Water for Life
Consulting Services,†Tendering and Contracting, Opportunities, Partnering, Safety Certification
Driver Guides, Driver Licensing, School Buses and Commercial Vehicles, Distracted Driving Legislation
Commercial Vehicle Safety Regulation (CVSR), Vehicle Equipment Regulation (VER), Commercial Vehicle Out-of-Service Policy, Industry Notice
Highway Design and Construction, Highway Maintenance, Bridges, Water Management, Highway Special Events Guide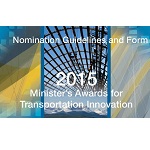 Submit your nominations for the 2015 Ministerís Awards for Transportation Innovation
Alberta Transportation Minister Wayne Drysdale is pleased to announce the call for submissions for the 2015 Ministerís Awards for Transportation Innovation. These annual awards recognize Albertaís transportation industryís innovative people and organizations which plan, design, construct, operate or maintain a roadway, transit service or related initiative.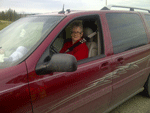 Highway 43 twinning complete
Work on twinning 20 kilometres of Highway 43 through the Sturgeon Lake Reserve is complete. The highway officially opened to traffic on September 12, 2014 and Sturgeon Heights resident Charlene Soldan was the first driver on the eastbound section of the newly twinned section. Transportation Minister Wayne Drysdale celebrated the completion of the project with special guests on October 3 in Grande Prairie.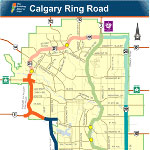 Take a look at the final leg of the Calgary Ring Road
The Government of Alberta is continuing planning for the much anticipated final section of the Calgary Ring Road. Residents can now take a closer look at the future with the release of new planning drawings of the roadway and interchanges, current aerial photos of the route and an update on next steps as the project moves closer to shovels in the ground.