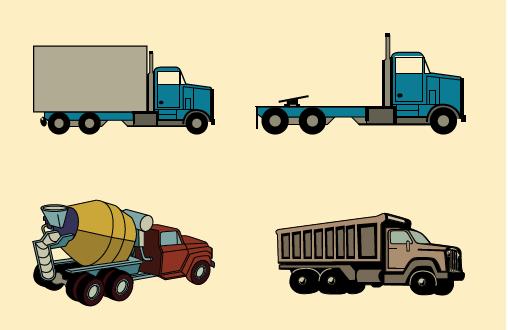 Examples of Class 3 motor vehicles are trucks designed for transporting goods or carrying loads.
 
Loading and
unloading dump
vehicles
Loading
Follow your company's policy for loading
a vehicle on site. Some companies prefer
drivers to remain inside the vehicle while
others require them to stand outside the
vehicle while it is being loaded.

When leaving the vehicle, use the
three-point contact procedure. This means
that two hands and one foot or two feet
and one hand remain on the vehicle at all
times. Never jump from the vehicle. When
outside the vehicle, wear the appropriate
protective equipment.

You must not move a loaded vehicle
until the following has occurred:
• The material is evenly distributed
   in the box.
• The load is secured so it will not blow
   or fall off and damage other vehicles
   or cause personal injury. You must
   comply with the Traffic Safety Act when
   securing loads. If a municipality has a
   law that states that the load must be
   tarped, you must ensure that it is done.
   While covering the load, watch for
   debris that may have been caught
   in the tarp.
• The vehicle's tailgate, tailboards, doors,
   tarpaulins, spare tire and any other
   equipment that needs to be fastened
   is secured.
• There are no loose materials, debris or
   rocks in the tailgate, sides of the box,
   hitches or coupling devices. Clean or
   sweep off loose material with a brush
   or broom.
62    A Commercial Driver's Guide to Operation, Safety and Licensing