Harvie Passage
Harvie Passage is an active construction site and for user safety will remain closed to navigation and the general public until the summer of 2018.
The Harvie Passage, a popular area of the Bow River among paddlers and nature lovers, has been closed to recreational use since the 2013 flood. Work on repairing the flood damage began in September 2016 and is expected to be completed by summer 2018. Until the passage has been officially re-opened, the area will remain closed to all boating activity and on water recreation. The public is advised to use caution in the areas around the current construction site, to obey all safety signage and to be aware of heavy construction equipment operating in the area.
Originally opened to the public in 2012, the Harvie Passage was designed and built to minimize the hazards posed by the existing Calgary Weir and create recreational opportunities for both novice and skilled paddlers and river recreationalists. 
The passage consists of a high water channel, for skilled paddlers and on river recreationalists, and a low water channel for novice paddlers. Both are currently being repaired and modified and will offer the following benefits once complete:
Increased safety and navigability
Improved fish passage and habitat
Improved on and off river recreational opportunities
Aesthetic improvements
New and diverse opportunities for recreational boating
Originally constructed at a cost of approximately $16 million, the current repair costs will be approximately $8 million dollars and will be funded through the Federal Disaster Recovery Program. The Harvey Passage was sponsored by the Parks Foundation (PFC), Calgary, on behalf of a long list of stakeholders and in partnership with the City of Calgary and the Government of Alberta.
Project Updates
In November 2016, repairs were completed to the High Water Channel.
In April 2017, river flow was diverted from right to left during the legislated "non-restricted in-stream activity window" to allow for 2017 construction activities. Between spring and fall 2017, the new Low Water Channel will be constructed.
In spring 2018, the Low Water Channel will be completed and landscaping done.
Harvie Passage will re-open to the public in summer 2018.
Project Newsletters
Project Newsletter #1 – September 2016
Project Newsletter #2 – January 2017
Frequently Asked Questions

Repairs to Low Water Channel Underway, May 2017

Repairs to High Water Channel, November 2016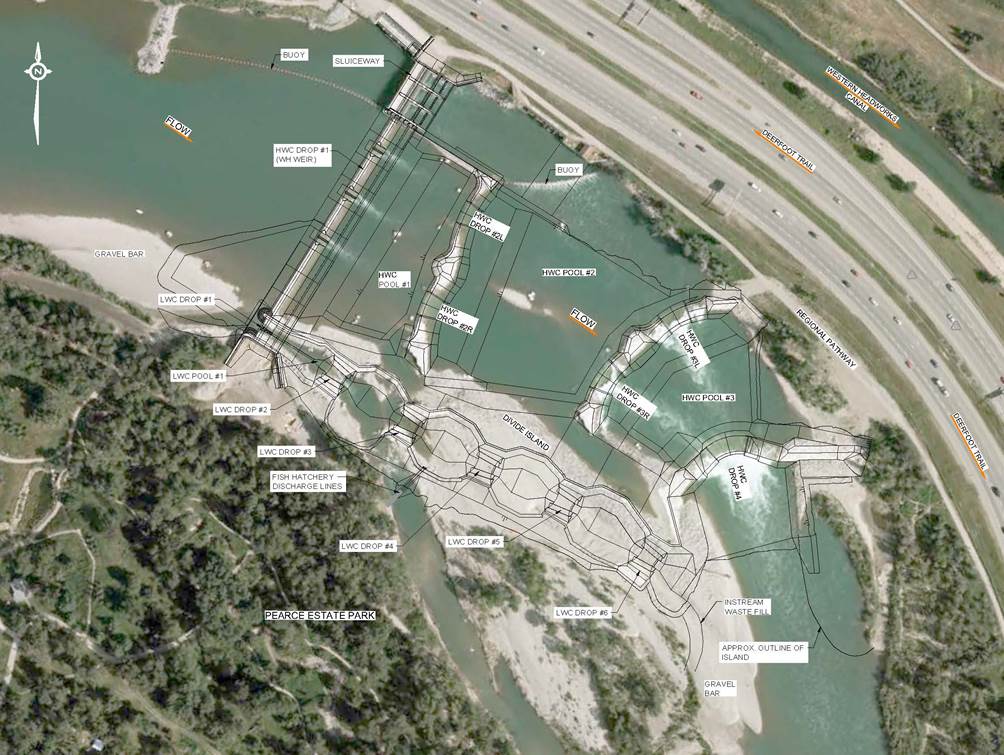 Harvie Passage - Post 2013 Flood (August 8, 2013)

Harvie Passage - Pre 2013 Flood (October 5, 2011)